It's that time of year again, the time where 10 Dutch celebrities go on a trip and on that trip they will compete in challenges to win money for a group pot. Unfortunately one of them is being paid to surreptitiously disrupt the challenges to keep the pot small. To stay on the journey and ultimately win the pot the contestants must work out who is the mole?
This year's journey begins in the Dominican Republic and the show will go out on Dutch channel Avro on Saturdays after a record breaking year last year. You can watch on various Dutch TV catch-up services online (here is the official site) but for discussion here we wait a few days for an English subtitled translation to pop up on Youtube thanks to out Dutch friends. We ask that you don't discuss an episode here until the English subs have gone up, then feel free to discuss away. I will put links here to where the individual episode discussion starts in due course. You can find previous series discussed on the Specials Board.
Links to places in the thread:
Look out also for Daniel Peake's The Suspect List game after each episode.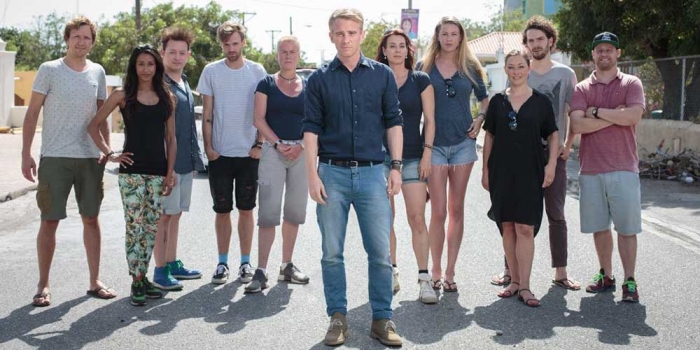 Here is a list of this year's contestants from Squared Eyes (from left to right, that's host Art Rooijakkers in the middle):
Klaas – host on TV, mainly for the recent years in younger aimed shows. Comparable to Pepijn from a couple of years back (2011)
Airen – upcoming, young host from SBS6. Not fairly well-known nor liked much, mainly hosting an entertainment filled news show late night.
Rop – an actor, also a character in Goede Tijden Slechte Tijden, but more in theatre and musicals.
Tim – a young, upcoming host from the public broadcaster, does a lot of shows, very well known with the 'millenials'.
Ellie – the spokesperson of the police in Amsterdam and on the TV show "wanted" for many years.
Cecile – the former editor-in-chief from a Dutch fashion magazine like Vogue, fashion expert in magazines and in talkshows.
Annemieke – radio host of the younger aimed station 3FM, fairly well-known, a 'one of the guys' kinda girl.
Marjolein – perhaps the biggest name of the bunch, a very well known actress, especially from the soap opera Goede Tijden Slechte Tijden.
Remy – musician, more specific a harp player. I would say completely unknown with the main audience.
Taeke – a former hockey player, has won all the big championships with the national team including the Olympics as a captain.
An eleventh contestant, Rood, was publicly eliminated in an event before the series began proper at a public press conference in Amsterdam.