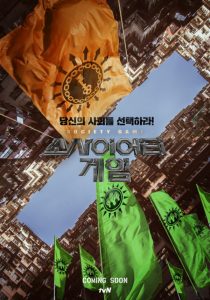 Sunday nights on south Korean channel TVN
We're a site with a mainly UK audience, please don't discuss an episode here until the English subtitles for an episode have appeared. Thanks!
Well here's an interesting thing and no mistake, a collaboration between EJ C&M (who we'll know better as the production company behind The Genius) and Endemol (the production company behind Big Brother). The end result appears to be a game that asks interesting social questions combined with well thought out challenges to a rather banging electronic soundtrack.
Here are the basic rules:
22 contestants are split into two societies living in a sort of village next to each other, Ma-dong ruled as a dictatorship and Nop-dong ruled as a democracy. Whoever leads Ma-dong gives two Keys of Rebellion to two other campmates and the only way to change leader is for one of those people to convince half the camp to overthrow them. The Nop-dong village has a vote every morning to pick a leader.
Each day there is a challenge which will have a physical strength, dexterity and mental agility element. Winning the challenge means your team earns W10,000,000 (about $10,000) which the leader will split between their team as they see fit.
Losing the challenge means the leader has to choose someone from their side to eliminate. If they had any money in their personal account it's gone.
The winning Leader can also choose to write one of their own team's name on a blacklist. If a name appears on it twice that person is eliminated.
On the final day, Day 14, there can only be three people left on each team (it can't go below three, they'll just not eliminate people. If there are more than three the final leader chooses who to take to the final). Whichever team wins the finals gets to keep the money.
We started discussing Episode 1 here but hopefully anyone who wants to discuss the rest of the series can do so here.