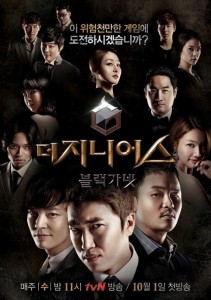 Starts 1st October.
And so we come to the long awaited third season of Korean amaze-o-show The Genius, this time with an (almost) all new cast and a lovely looking set.
If you're new to The Genius, it's a reality game based around games of logic, guile and game theory. It's not always brilliant, but when it hits it really hits.
This time round the theme is Black Garnet. Garnets are the show's currency – the more you have the more power you potentially have as you can buy advantages in the games. But each garnet also represents prize money so there is a balance to be struck. Evidently there is a twist to come.
We recommend following @bumdidlyump on Twitter for updates as she has subtitled the previous two seasons of the show. Links will likely appear on her Tumblr and if you want to catch up on Seasons 1 and 2, and you should, here is a big list of episodes. It seems to be going out on Wednesdays this time round which is a change from the usual Saturdays. We discussed the last series here. Edit: Links to Series 3 eps.
A note to our international friends – please don't comment on episodes here until they've been subbed. We're a UK site with a mainly UK audience. Once the English translations are up then it's fair game.
So you can avoid spoilers, links to discussion based on specific episodes can be found below.