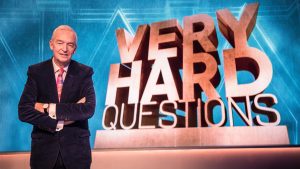 Wednesdays, 8pm and 10pm
More 4
Here's a show that sets its stall out quickly: C4 newsreader Jon Snow's here and he's going to be asking some very hard questions. For an hour.
Two teams will be battling it out in what looks like a single-elimination knockout tournament for a trophy (if the advert is anything to go by).
They're bigging up the questions, so we're intrigued to see if they're actually as difficult as they say they are, and if they are is it still fun and entertaining? Say what you like about Only Connect, but the creativity on show with regards to the questions still makes it an intriguing watch even if you don't know the answers. I hope it's not just Slow University Challenge.
I won't be able to watch the first ones live, so I'm interested in your thoughts, do leave them in the comments.