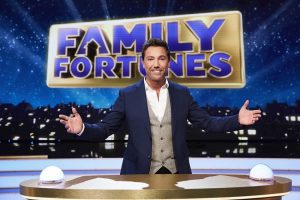 Sundays, 8pm,
ITV
It's back, and this time it has normal, natural un-media trained everyday families competing for big cash prizes by guessing how 100 people responded to survey questions and trying to avoid the dreaded er-errrs.
The big twist this time round is that it's being hosted by popular Italian chef Gino d'Acampo so we're bound to get hysterical misunderstandings peppered throughout. Doubtless this will be a more overtly comic take on the show, similar to how Steve Harvey took the show from zero to hero during his run. Will we be seeing lots of penis related answers?
Also it's been filmed under COVID, as you can see the buzzers are quite far away from each other, and the families will have been in their own bubbles anyway.
Also GREAT news for FF fans, Single Money returns!!!!!!
Are you especially bothered about Family Fortunes coming back, and is it any good? Let us know in the comments.