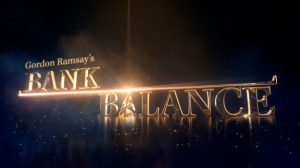 An episode of Gordon Ramsay's Bank Balance (I've realised that doing the typography gag makes it hard to search for) films remotely today, if you're in the audience do feel free to spill the beans on whether it's any good or not.
Of interest, the BBC is planning on semi-stripping it several nights a week at 9pm which suggests a) real confidence and/or b) a lack of dramas in the tank.
"This is going to be truly epic. It is such an intense game with so much jeopardy to win big and lose even bigger, where the difference between failure and success is always in the balance. I'm so happy to be working with the fantastic team at the BBC and cannot wait to get in the studio and start stacking those gold bars!"

Gordon Ramsey
Looking forward to seeing how they can "lose even bigger" – fail to stack your bars and lose your house.
In other news, Lingo has been recommissioned for another 60 eps. Let's hope this time Adil tells losing contestants to "Ling-off."