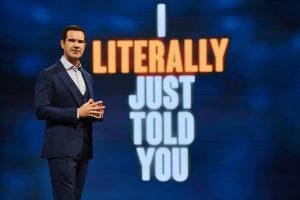 Thursdays, 10pm,
Channel 4
The latest creation of Format Powerhouse (or at least, Person) Richard Bacon sees Jimmy Carr asking questions about things that have just happened in the studio for £25,000. It's an observation and memory quiz basically.
What might be fun is that this interview suggests they're going quite big on the meta, "we had real fun with the fact that anything can happen. You can have 15-second cameos, you can have false ad breaks, you can mess with people's minds." It also sounds like the grand final will have contestants setting each other questions: "I think the best bit of the show is the end round. I've never seen another game show do that, where you go, "Oh, you're setting each other questions"" and I for one can't believe we've all forgotten Mental: The Music Quiz already.
Counting against it: is there going to be enough here to sustain an hour? And it's not usually a slot that C4 do amazingly well in. Watched it? Let us know what you think in the comments.