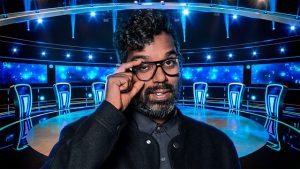 Saturday, 6:10pm,
BBC1
No your eyes AREN'T deceiving you, The "The" is now officially part of the title again after twenty years in the wilderness, for no discernable reason.
Look, we wanted Judge Rinder to host. But we like Romesh and can understand why they've gone for mildly-pissed-off-uncle in this lighter, brighter The Weakest Link reboot, where eight celebrities will quiz and backstab their way to win up to £50,000 for charity.
Unfortunately there seems to be a lot of the rubbish US reboot DNA lurking in here – a poorly considered chain if the advert to go by (although I accept that having a bottom rung 1/30th of the top is quite generous, that's just as well as you might as well bank after every answer which isn't very entertaining is it?), having to push a button to bank (ooh the dynamicism) and we still don't actually know if there's a big-money two-player round before the head to head which is an absolutely useless format subtraction. And Christ I hope they're not going to have to reveal who you voted for before the big reveal of who you voted for. And also by Christ please don't be plodding with the questions, it IS meant to be quickfire.
I know it's easy to fall into the trap of going "oh this doesn't matter, it's all about the comedy." Except it's the quiz that drives the comedy. It's always been the quiz that drives the comedy. Once you've taken the piss out of someone's job and accent, what are you going to take the piss out of when people making mistakes under pressure isn't there?
Anyway fingers crossed that it's good but can well believe it might be rubbish. Let us know what you think in the comments.