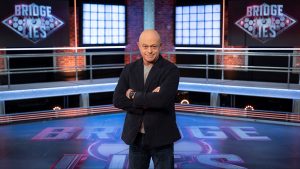 Weekdays, 4:30pm,
BBC1
Hot on the heels of Danny Dyer (The Wall), and Steve McFadden (er, Britain's Hardest) former Eastenders hardman Ross Kemp has been drafted in to host a quiz and it's one that seems a bit more gamier than most so we'll soon see if this is a smart bit of casting or stunt casting gone wrong.
Teams of individuals must cross the eponymous Bridge of Lies – an electronic screen made up of tiles in a diamond formation but only stepping on the correct answers that fit the question – from the promo we've seen, the questions are a bit Moneybags-esque which isn't a bad thing. The steps of the Bridge are covered until you're a step away so it will be interesting to find out if the positions of the questions on the bridge are entirely pre-determined or whether the correct route is pre-determined but right or wrong questions are just distributed from a list – it seems like there's potential for backtracking and picking up extra money en route.
Criticisms that people have picked up on just from the promo is that it's the shame all the writing on the tiles is going to be at 90 degrees for the viewers at home, and that the game is against the clock (to HUNDREDTHS of a second no less) but there's still quite a lot of step on answer, pause for drama, reveal going on which seems a bit rum. Hopefully there's enough else about the show to cancel the issues out.
STV Studios had a quite fun format called The Lie knocking around a few years ago which we always thought would have been a great half-hour filler show, so if it's at least as decent as that than that's a good sign. But is it? Let us know what you think in the comments.