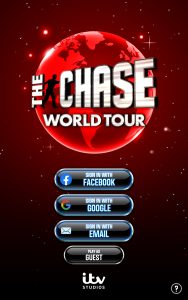 There's a new The Chase: World Tour app out on your favourite app stores, but we're not going to do a video of it as it's one of those modern "give us yer money" ones, where you earn about 20 different currencies to unlock things ("Amazing authentic graphics featuring global landmarks") but the one you need to use to get past the time gates is the one you have to pay real actual money for.
It has typical Barnstorm sheen and the older and very good app is still available, but you'd have to assume the questions in it are getting on a bit, the questions here are a bit more up-to-date. Play The Chase in various cities around the world and try and capture and evolve Chasers who will be obliged to make you higher offers. You can play the Cash Builder (time gated) to earn money for a table chase (which aren't time gated, but if you haven't played a cash builder you're obliged to stake the minimum from your selected city) and you can play these multiple times to earn stakes for a (time gated) Final Chase which in being algorithmic in how the Chaser plays out will never lose the feeling of being a bit sus if you get a decent score and lose. It has leagues and achievements and lots of things to click for free early that will probably slow up a bit the longer you play, it has frequent offers on gold bars and the like after games.
It does what it does very well – like I say, typical Barnstorm polish, it's just a shame it feels a bit money-grabby, really.