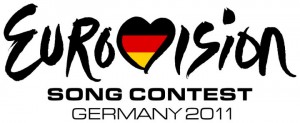 Wooh yeah! I'm so excited about this.
Join Graham Norton at 8pm on BBC1 for the Eurovision Song Contest live from Dusseldorf (or if you prefer Ken Bruce on Radio 2). 25 countries are competing in the grand final, including Ireland with Jedward's Lipstick (which as song number 6 behind other upbeat numbers from Sweden and Estonia is a really bad draw for them) and the UK's Blue with I Can who will be the 14th to sing. Hit the red button for singalong lyrics!
This year promises dynamic voting to make things as exciting as possible (although it's based on the national juries votes taken from yesterday's dress rehersal, so it may not work all that brilliantly in practice) and in a first, electronic voting from the Bother's Bar venue of choice (i.e. an iPad with Numbers) so I might be chipping in with some stuff if I can get the wi-fi connected. It's all VERY EXCITING.
You can see the running order and download a scorecard from the BBC here.