It's out on iTunes and it costs 69p. I'm also reliably informed there's an Android version that's free to download but charges to unlock the full game. In-app purchases are available, but not necessary for fun.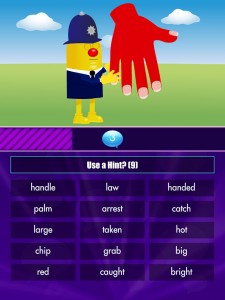 And it's quite good fun! This is a solitaire reimagining of the show (although multiplayer is promised later). You get twenty "rounds" included, each one consisting of 12 catchphrases and a bonus catchphrase. We've played almost half of the rounds and haven't come across a repeat yet. It also features the show's new theme and some of the show's think music.
In each round you stop the bouncing light going round a 3×4 Bonus Catchphrase grid and then you have to solve a Catchphrase to reveal the piece of puzzle underneath. The score is kept as coins, and the faster you answer the more coins you win (most are worth 25 plus a time bonus, but some lucky squares can earn you more). You get one guess at the Bonus Catchphrase for a substantial bonus that decreases with each square uncovered, you have to decide when you make that guess. With judicious use of hints you can go quite early.
The Catchphrases are rendered as 2D Flash-style animations and they're bright and look good – crucially Mr Chips doesn't look like a psycho in them. You're told how many words are in the Catchphrase and you will get a grid of words to select from, and you tap the words to make the phrase. It works well, although it's a shame the words aren't in some sort of order – if you work something out in the last few seconds you have to desperately scramble to try and find them on the list. There is a hint system – you get five for free and one extra after every completed round, or you can buy them with actual real money, and using one highlights the next word in the phrase. The Catchphrases are of a decent to very good standard, albeit with an occasional one that you wish was a bit more directed and descriptive.
Coins are the game's scorekeeping – you don't buy things with them – and you can give it Facebook access for leaderboards and such like, although if you want to compare with just friends I haven't found an option for that yet. In fact the leaderboards could do with a bit of work as they don't seem to rank you anywhere unless you have somehow made it into a Top 10. You can't redo a puzzle to get a higher score on it, which is fair.
Multiplayer and extra puzzles are promised – doubtless for a fee, but what you get for 69p is good value I reckon. I think it is more fun to play than the original Classic Catchphrase app.
If you've got an iThing, Welsh outfit Cube Interactive who made this also make the game for S4C kids show Y Lifft, which features several light-but-fun mini games in a stylish package, which you can also play along with on telly. It's also free at time of writing, so have a look. And yes, you can play in English.