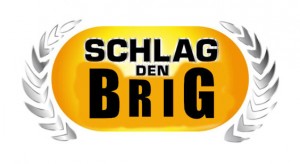 Tonight, 8pm UK,
Youtube and here
#sdb
#imbackingbrig
#teamdan
OK, we've been building it up all week and tonight's the night.
Tonight Daniel Peake will futilely attempt to beat me over fifteen mystery games devised by TV's David Bodycombe, whilst Lewis Murphy adjudicates and commentates.
It will begin at 8pm UK time, and the live feed will be up on Youtube and on here. You are invited to tweet along with #sdb or you'll be able to leave comments on the Youtube channel. It will be expected to finish between midnight and 1am, so feel free to join us late if you want. Me and Dan will not be reading the Twitter or Youtube feeds – we'll only get what our hosts will be reading out until after the event. Yes I know you think I'm a bit fat and ugly and I'm a man who has been horrible about your rubbish TV show but I'm also acceptably rugged looking (i.e. unshaven) and you still would.
The format is the same as popular German event show
Schlag den Raab (Beat Raab!) – 
each game worth more points than the last (Game 1 = 1 point, game two = 2 points… game 15 = 15 points) so it's a race to grab 61 points out of the 120 on offer, however unlike on television we will play out all fifteen games even if a winner has been decided. Because it's a shame to waste the effort.
Please bear with us if there are technical problems. This is actually quite high concept and me and Dan genuinely know little of what to expect and David and Lewis will have to react to whatever happens. If you're enjoying it do please say hello, we're likely to be here a while. Fingers crossed it should remain on Youtube after the event, but there is a chance the copyright detectors take it off, I'm informed, so if you can tune in live then do. We will keep you informed through here and Twitter if there's something you need to know (@danielpeake, @davidjbodycombe and @ogbajoj all worth following as well).
So let the games… BEGIN!