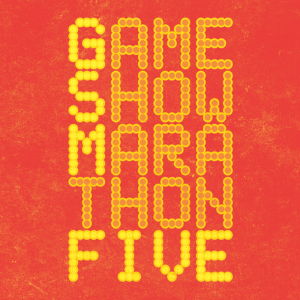 Starting tonight,
From Midday Eastern/5pm UK

Watch live and donate at gameshowmarathon.com
It's that time of year again where some Friends of the Bar – Cory Anotado, Bob Hagh and Christian Carrion, alongside assorted special guests, stay and play 24 different gameshow formats over 24 hours to raise money for Child's Play.
The schedule is varied and interesting with plenty of UK shows in the mix (largely panel shows but there's a version of Mastermind and Bob's Full House is there towards the end). The highlight for me is probably going to be Schlag den Pacdude, 8pm Eastern/1am UK, a planned nine-game edition of Schlag den Raab. Which also works out well for me because I'm seeing The Pet Shop Boystonight, ahem.
They are hoping to raise $2,500 for the kids hospitals, if you watch you should donate, both things you will be able to do on their website.
[Yes I have literally just bumped last week's post with some of the words changed, if you're wondering.]