Version reviewed: v1.0.0
Requires iPad running iOS 3.2 or later (iPhone version also avaliableuntested)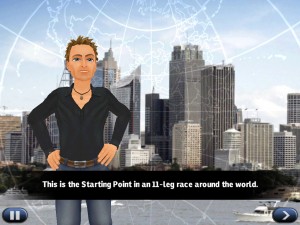 Here's your opportunity to race around the world through the medium of mini-games, for no cash reward.
For fans of the show there's actually quite a lot to like about this app – it's got the titles, it's got Phil it's got Phil raising an eyebrow, it's got Amazing Race-esque background music. It's got roadblocks, detours and fast forwards. It has travelling.
You pick one of twelve teams, each based around a certain pigeonholeable characteristics – soldiers, goths, parents, that sort of thing. You can pick the length of your race – shortest is five legs, longest is eleven. A full Race of eleven legs will take you about an hour to complete.
Each leg begins with you recieving money. This is only used for air fares and ground travel (this is unlike the show where the air fares are paid). You get a route info that tells you where to go, and then you'll be faced with a departure board. You have several options for flights of varying speeds and varying amounts of money, if you're willing to wait then these get periodically replaced, although the time you wait is added to your total time for the leg. Flight chosen you're off to your destination, to be greated by a lovely panoramic shot of the place. There is quite a lot of stopdown animations and Phil talking, you wish you could just get on with it sometimes – you can fast forward through it all but it requires an irritating number of taps. I'm not sure there's any real need to explain the travel element in leg nine of the eleven-leg race.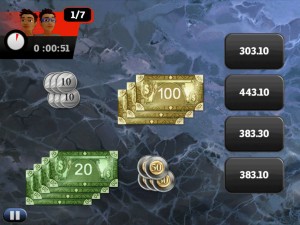 The meat of the game is in the tasks, on each leg you will get two of a detour, roadblock or fast forward and the faster you complete them the better. The detour and roadblock minigames work quite well and fall into the Brain Training style – whether it's counting coins, matching squares or working out which piece fits the puzzle, in the main they are quite good fun but there are only thirteen of them so there's plenty of repetition. Happily in a nod to the show each has several names so in the detour they can be offered as relatable opposite choices like on the telly. The detours are also well paired so that they can take a similar amount of time – there's a needle in a haystack style cleaning dishes game which is actually a bit cleverer than on first examination and that tends to be paired up with a finding certain pictures on a conveyor belt game. Detours and roadblocks have seperate game pool as far as I can see.
Fast Forwards turn up apparently at random and is a multiple-choice geography quiz. The pictures of landmarks are quite nice, but the questions fall into the "which is furthest north/shortest" and aren't really that interesting. Correct answers mean a time bonus.
You are given an update on how well you are all doing between parts. This is useful, but it opens up one of the games less thought out points – ground travel. This works on the same principle as the air travel but on a much cheaper and quicker basis (only adding 20 minutes to your time really, in legs that take several hours of game time) so unless you're really far behind you can take the slow but free option and not be at any risk of elimination. Winning a leg earns you a small cash bonus, but going for the three arrow air travel and cheap taxi will get you to the end fairly safely most of the time.
Other options? You can play two player simultaneously which is quite nice – take it in turns to do the detours, perform the travel, roadblocks and fast forwards (which now include a first to answer element)  simultaneously. You can't save a two player game. You can also unlock the mini-games to play on their own – both come in easy and hard versions (and the differences are tangible) but the method to unlock each version is different. Your travels around the world also update the journal, each of the 28 cities in the game has a small photo album with associated facts, which is quite cheerful.
The Amazing Race HD plays a surprisingly fun and solid if not perfect game.