Version reviewed: v1.0.0
Compatable with iPhone, iPod Touch and iPad running iOS 3.0 or later.
Social: Game Center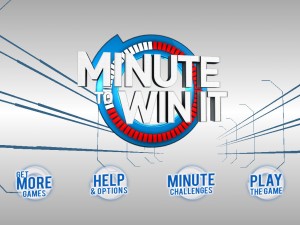 Wow, this is made by Capcom who are a proper games company and everything. Perhasps they'll be challenges based on being able to perform Zangief's Spinning Pile Driver or something?
Alas no such luck, this is the game of Guy Fieri's NBC show that sort of managed to be a spoiler for The Cube. With ratings at an all time low, now seems a strange time to release an app for it.
The app comes with ten different games all based on ones from the show, of which only five you can play off the bat, the rest have to be earned by banking money – you can play it like the show, where you get three lives to progress as far as possible, or you can practice challenges (it keeps a note of your best time). You can even play a multiplayer of sorts where by you attempt single challenges and it declares a winner based on who got the best time, either by taking it in turn or liking your iDevice to another to play simultaneously, although alas there's no multiplayer variant of the main game which seems a pity seeing as they've adapted to them quite well on the main show itself.
But unlocking games isn't a massive issue provided the games are fair and reasonable enough to win. It starts off well enough with Egg Roll – fan eggs so they roll into a target area, taking into account the elipical wobble. This is fine. Sticky Balls is another easy game, roll balls so they end up in a sticky target zone -this is easy enough to win by spamming, although the pressure accuracy doesn't feel entirely convincing.
Unfortunately the other games don't like you at all. Hang Over involves hanging coathangers off of the middle of each other without the stack collapsing to one side – this appears to be as much about luck as judgement – apparently you can use your iDevice's accelerometer and tilt to shift the perspective to make it easier to place the coathangers. Well I can't get that bit to work, and so I'm limited to trying to work out the middle each time with hilarious results.
Seperation Anxiety is almost fun but I think suffers from having a few too many things to do – a bag of sweets (they're meant to be M and Ms I think) opens in the middle, the object is to put each one into its correctly coloured cup. But you have to do it in order – one purple, then a green, then a red and so on. In your hurry (because you have 40 sweets to sort, I think) it's very easy to accidentally pick up the wrong colour and not realise until after you've deposited it in the cup (this is an automatic fail) or not realise you had missed the cup and moved on (in which case you've done it in the wrong order – FAIL).
The final initally unlocked game is Ping Tac Toe, bounce both red and yellow balls into cups until you get a row of three. Or at least try to, I've got a superb talent for managing to land the balls between the cups no matter where I try and swipe and bounce from. Once again unconvincing physics wins the day.
Unfortunately I've yet to unlock any of the other games, it is simply too time consuming for the apparent reward – sure you can do it by making a run through the five games in the main mode but you almost certainly won't succeed, or you can bank little bits of money which is just tedious.
This is a shame because I quite like the app's aesthetic, all being played out in Blueprint Land in the middle of the World of Tron and I quite like the music as well, it features a burst of that tune that gets played whenever people succeed on the real show, and also features voice samples from Guy Fieri (although regrettably not Blueprint Woman).
Basically Minute to Win It is a collection of mini-games that needed to be thought through a bit better.