Version reviewed: v1.0
Requires iPhone, iPod Touch or iPad running iOS 3.1 or later
Social: Yes – can connect to Facebook and Twitter.
It's been a while coming but the OFFICIAL Only Connect app is finally here, and in it you get to play with the third (and third best) round of the show – the connecting wall. In fact you get twenty of them for your money (with additional walls avaliable to buy as an in-app purchase). At three minutes a pop that's an hour's entertainment for your money.
The software's presentation is similar to the version on the official website, here you get three minutes to sort out the wall into your four groups of four and give the correct links. The link input parsing software is pleasingly versatile, you don't need to put the link in the way it comes up as an answer in the walls tested ("lads mags" is recognized for "mens magazines", for example) although possibly for a show which tends towards more exacting standards it's a shame it doesn't ask you to be more specific if the term you use is too broad ("Comedies" is fine for "TV Sketch show series", for example).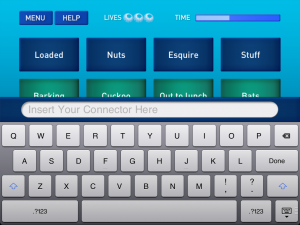 The real draw playing this on an iPad (I can't guarantee the same pleasure on a smaller device) is the feel of the thing. Just as the contestants prod a touch screen on the television on an iPad you can play how it's meant to be played, it's nicely responsive, makes the satisfying "ter!" sound when you press something. Good use of swooshing, it's great. Victoria Coren has also recorded more soundbytes (you get a bit more than "no, that's not a group" here) and a couple of videos. At the end you can post your score to Twitter or Facebook, although as you can then replay the wall and then repost the scores having seen the answers it's not that great a feature and from a production perspective, it might have been quite useful to put an iTunes link in with those tweets and updates so people will know what the hell you're on about.
I've always felt the first two rounds were the more interesting rounds anyway, but if you're looking to play the connecting wall then you can't go far wrong with this.