It's a show that's a bit like Tout le Monde Veut Prendre sa Place but apparently developed independently of Tout le Monde Veut Prendre sa Place if the credits are anything to go by and it was hilariously cancelled after only one episode, the other filmed episodes apparently getting burnt out in non-competitive slots.
Here are some people taking part in a rigorous selection process.
It's our first feature in widescreen!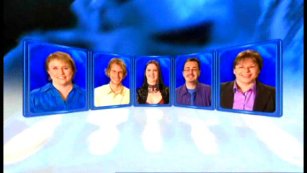 And these five lucky people have been determined good enough to play for…
… for one million dollars in prizemoney.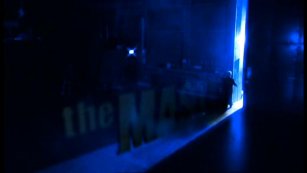 Oops it looks like we took this shot too early. Anyway, to win the money they have to take on… The Master! The Master is Martin Flood, one of only two million dollar winners on the Aussie version of Millionaire.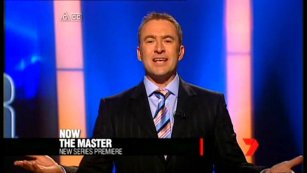 Here's our host Mark Beretta.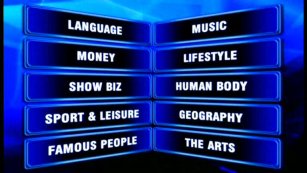 And here are the ten categories that will form the basis of tonight's questions.
Everyone wants his place, it's The Master!
The Master will be taking notes as the game progresses and assessing our contestants' strenghts and weaknesses.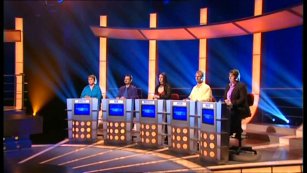 It's time for the contestants to introduce themselves.
Basically it's "Hello, I'm X, I do Y for a living and my nominated category for this evening is Z."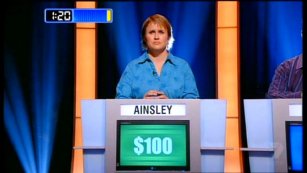 Round one is ninety seconds of quickfire questions on the buzzer, the questions are posed from the ten categories at random. They earn $100 for each correct answer…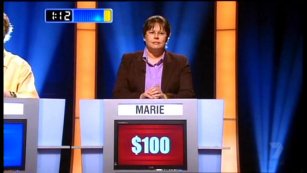 … but wrong answers are punished by being locked out of the next question.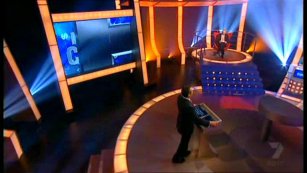 Round two is a Master's Choice round. Mark has a chat with The Master to see what he makes of the contestants, The Master will say something a bit pithy in return (probably scripted, Martin Flood doesn't seem too convincing saying them). Anyway, in a Master's Choice round all correct answers are worth $200, but The Master gets to select the category of questions for the entire round.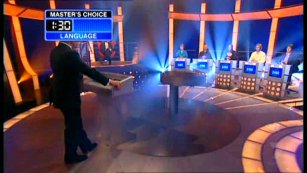 And it's 90 seconds on langauges, because he felt many were struggling with the language questions in the last round.
Whoever is last at the end of a Master's Choice round is eliminated.
But as you might just be able to make out, it's a tie! Two contestants on $300 each.
Cleverly, in the event of a tie, The Master gets to make the decision as to who is going to go. The Master suggests that as one of them seems much more timid behind the buzzer, he'd save more cash getting rid of the other one.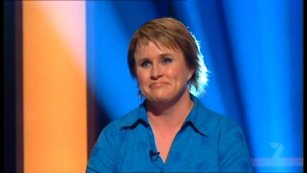 And it's goodbye to you, but you take home $300 dollars.
Wash, rinse and repeat – the next two rounds are exactly the same as the ones just gone.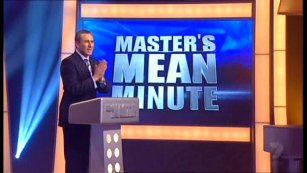 But Round Five is a bit different, it's the Master's Mean Minute.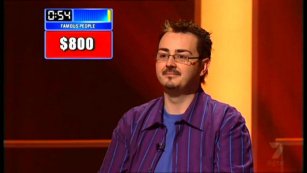 And why is it mean? Each of the three remaining contestants gets sixty seconds of questions on their nominated category. Each correct answer is worth $100, but each wrong answer, a pass, or a time out means you lose $200. Thus it's easy for the game to change hands.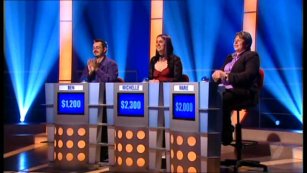 The final round is another 90 second general round. The winner of which wins $50,000 (which hadn't been mentioned up to that point) and gets to face off against The Master for a possible million. And Michelle's our winner!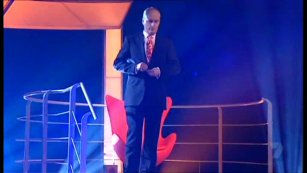 And here comes The Master!
Michelle now has a choice. She can has to bet some of her winnings against the Master in $10,000 increments. If she wins, she wins ten times the amount bet. If she bets all $50,000, she must also bet all her maingame winnings (so it's all or nothing) as well but she will get to choose her category and if she wins she wins a million dollars and becomes the new Master.
She's a student and is thrilled with a guaranteed $42,300 so she bets the minimum. Mark tries to push her into betting more but she's having none of it – this is the kind of excitement you want from a first episode!
The jackpot is set therefore at $100,000.
As she's not bet the lot, The Master gets to choose the category. He notices that she's answered pretty well in all of them but there's one she's been very quiet on… geography.
It should be noted that true to Aussie quiz legend based show form, the first part of the show is conducted at an excellent pace, and indeed the first half of the show is a very passable quiz. However this next bit of the show takes over twenty minutes.
What follows is the end game from Rent Free. Both contestants get five multiple choice questions fired alternately, The Master gets first go. Whoever gets the most right wins.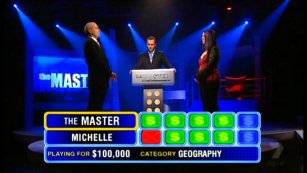 And you have to say it's looking good for The Master.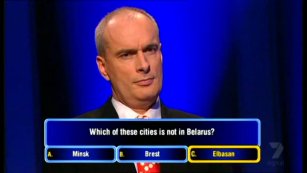 In fact, he's correct with this answer, so that means he's won. Well done him!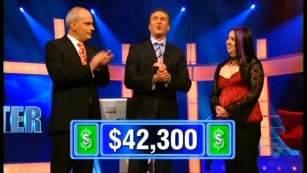 But she still leaves with $42,300 which is a bit over £15,000 which isn't bad for a night's work.
Join us next time on The Mas… oh.
This article was originally written in 2007, a selection of the original comments follows:
Travis P:
For those who are unsure who The Master is. It is Martin Flood, where he became the second person to win $1 Million on Aussie Millionaire back in 2006. Ironically it's taken them years to get their first winner. Martin who the prize two weeks after Rob Fulton became the first to do so.
and in terms of "the other filmed episodes apparently getting burnt out in non-competitive slots".
They were slotted in the months of December & January where the major networks don't look at ratings for that period in terms of achievement.
David B:
This is a bit more like what I was pushing the French company to do for "…Sa Place" – a returning champion that has various ways of fiddling with the game.
Brig Bother:
I think combining the two, with this front game and …Sa Place's end game would make for a great show.
However, …Sa Place does a great job with developing it'a "duo, carre or cash" idea throughout the show, so I'm not sure a direct cut and paste thing would work.
KP:
Is it just me or do those graphics look like they were very much designed for HD? Small text in a clear modern font, sharp…
Format seems pretty good. Probably needs another round, maybe a second Master's Mean Minute earlier in the game?
Alex:
Shame it was only a pilot, the graphics and set look really nice indeed. Ultimately though, it probably suffered from the same problem that I found with …Sa Place – it's too long.