Jacques Antoine. A name few people would recognize in Britain, but in France where they pay a bit more attention to format developers (it's not unusual for devisors and producers to get mentioned in a show's titles) he's recognized as one of television and radio's most innovative producers and one of the most prolific format creators. And he also wrote books and screenplays although we'll be concentrating on the games here although one of his radio shows, Cent francs par seconde, actually formed the basis of a film released in 1953. Researching a French television producer is not the easiest of things to do when you're not very good at French, so if you can add or correct anything here you are encouraged to leave a comment!
Of course any person in the UK of a certain age would have grown up watching Chatsworth adapatations of his shows on Channel 4 and ITV in the 80s and 90s – everybody knows what Treasure Hunt and The Crystal Maze was. Interceptor was a cult hit. The genre defining Fort Boyard was Channel 5's highest rating show for a while (albeit that's not saying much). But you know all those cool ideas you see these days, usually as part of the reality skein? Antoine was probably doing a proto version of it ten, twenty years before it became the fashion. You know how The Amazing Race wins loads of awards and was once a great show? Well Jacques Antoine created a show where teams had to race around the world making films about the places they travelled to which would get sent back to Paris to be judged. La Course autor du Monde began in 1976 and ran until 1984. And actually there was an Australian version of it made in 1997.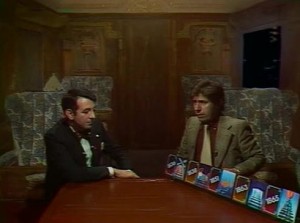 One of his earliest shows was also one of his biggest, La Tête et les Jambes (The Head and The Legs) which began in 1960 and ran for 20 years. The concept is very simple – Two contestants team up over a number of weeks, one is the brains, one is the brawn. The Head will have to answer questions on a different given topic each week. If they fail, it's up to The Legs to make up for the mistake by taking part in a sporting challenge. If they successfully make it through enough weeks (research suggests six questions for four weeks, but I believe towards the end it became five questions for five weeks) they'd win 100,000FFr between them, a huge cash prize for the time.
The topic is introduced by a short film for the viewer, and the question set-ups are quite neat and inventive, usually involving some set dressing and some props – most questions are multi-part and it sounds like there is some room for error. The sporting challenges are filmed as a full outside broadcast. Each time The Head gets a question wrong The Legs must perform their challenge, but the challenge becomes more difficult and exacting each time.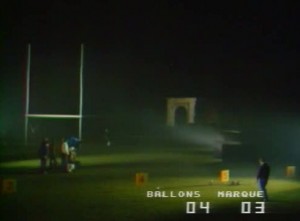 It's quite a neat set-up, so it's no surprise that the ideas have found themselves used in later shows – Un pour Tous (One For All) from 1993 with at the time current Fort Boyard host Cendrine Dominguez used the idea but with individuals playing as a team acting as The Head, and one of them having to be elimiated if The Legs couldn't perform their challenge. More recently still Drôle de Couple asked what would happen if you got partners playing together, one answering the questions, the other trying to perform challenges if the brain stuffs up, with a hilarious Mr and Mrs style element to determine the difficulty of the challenge. As recently as 2010 TF1 filmed a pilot for a revival with Vincent Lagaf. We'd pay to see that.
Sometimes he adapted radio shows for television. Le Tirlipot famously became Le Schmilblick originally hosted by Guy Lux (you may know him as the man who created Intervilles and Jeux Sans Frontieres and actually worked with Antoine a few times on radio and TV). What is a schmilblick? It's basically a useless thing, the term was coined by French humourist Pierre Dac during the 50s.
The game was basically a "guess the mystery object" competition. They'd see a close up of an object and they had to ask questions to guess what it was. If they got a "yes" answer they could continue to ask more questions or have a guess at the schmilblick for a rising jackpot. If they got a "no" they were off the show. Guy Lux and judge would sit in a studio but the show would travel and people were encouraged to come along and play.
Again it's a concept that's been used a few times. Le Schmilblick was bought back by France 3 in the 80s – this is the version I've seen. In it, people line up at a beach whilst the hosts sit in the studio. Questions start out at 300FFr and it looks like the money doubles with every "yes" answer. They can opt to walk away with their gains, but if they get a "no" or they guess the Schmilblick wrong then the money is added to the jackpot for whoever guesses it to win.
It also turns up as a game played on Les Jeux des 20hrs (The Games At Eight O' Clock), a show created with Jacques Solness that ran for over 13 years. It's basically collection of word and parlour games that would travel the country with local celebrities helping out. I think we can agree this is quite the theme tune.
When not creating his own shows he was adapting foreign shows for French television. Most famously he was responsible for L'Academie des Neuf – the French adaptation of The Hollywood Squares whihc ran for ten years. Obituaries also suggest he was responsible for adapting The Price is Right (Le Juste Prix) and Wheel of Fortune (Roue de la Fortune) although I can't find any evidence to back that up.
Emerging technologies in the eighties led to an influx of new ideas, of which the one we'll all know comes in the form of Chasse aux trésor. Originally singular, eventually plural, CaT is probably the first proper example of the action-adventure game, racing around the world not withstanding. Two people in the studio attempt to solve a riddle to direct reporter Philippe Dieuleveult with a helicopter to an object. If they find it in 45 minutes then the contestants win. The first series was exactly that – one clue, one treasure, and a feeling that the production would try and stall the contestants if they were getting a bit too close to the truth a bit early. Subsequent series got round the inherent flaw by increasing the amount of treasures to three (in fact if you watch the first series of Treasure Hunt this has a similar multi-treasure aspect which changed to the five-clue format we all remember properly from series two). The studio and the reporter couldn't see each other, they had to rely on radio communication, the footage was edited together with the studio footage to create the show. The show ran for over 100 episodes over five years in France and sold to many countries throughout the world (Puzzelflug from the Germans is my favourite titled one). And like many of his ideas, it's a show that has conceptually come back a few times – Les Trésors du monde was a mid-90s reimagining, but this time the contestants in the studio *could* see the reporter hunting for the treasures, and in 1996 the concept of helicopters and treasure hunting came back in a big way with the popular La Carte au trésor which ran for over ten years which Antoine is not listed as a devisor but came from his production house.
In the pilot for Chasse aux trésor and subsequently in an episode from the first series the treasure was hidden in a castle off the coast of La Rochelle – Fort Boyard. Like many of Antoine's ideas this comes back as a recurring theme later.
Interceptor used the ideas behind the making of Treasure Hunt and added a comedy villain. At the time it was seen as a bit of a flop but it's fondly remembered by people who watched it, and rather famously got repeated on Challenge TV after fans wrote in and demanded it.
In the late eighties Antoine collaborated with a man named Jocelyn Hattab on a show called Je Compte tor soi (I Count On You). In it, one person in a couple had to count banknotes falling down from a hole whilst the other answers questions. If they get a question wrong, the counter gets subject to distractions. If they come up with the exact amount of money they win it. It was, I'm led to believe, won just once. Now when Fort Boyard was piloted in Italy they didn't pick it up, they wanted a show a bit like it but more in keeping with Italian sensibilities. Hattab came up with the brilliant Il grande gioco dell'oca (The Grand Game of Goose), a giant televisual board game where members of the public attempted to complete comedic and often terrifying daredevil stunts for cash and prizes. It was a great show, and it crossed over to Spain as El Gran Juego de Oca, episodes of which made it over to the US.
And in 1990 Fort Boyard, France's most successful television export happened. We have covered Fort Boyard extensively on this site so don't intend to cover it in too much detail here. The story as it's been suggested to me is one of Antoine's production assistants goes up to him and suggests that Fort Boyard would be a great location for a show, he says OK, they spend a year doing the place up, the rest is history and legend.
The interest is how it became The Crystal Maze on UK screens. The given story is that Channel 4 representatives went over to visit the fort but it wasn't going to be ready in time so they decided to make their own version but when creating an internal pilot it developed into something else. Game designer David Bodycombe suggests "The producers asked the designer to make an internal mock-up of a castle for use as a pilot, and the designer (James Dillon) said "Sure, I can give you a castle, but I can also give you other areas as well…" And so the idea of the zones was born."
Buoyed by these successes, more adventure came in the form of La Piste du Xapatan and Le Trésor de Pago Pago. One involved trailblazing in a jeep through Mexico, the other deep-sea diving off the Turks and Caicos Islands. Neither were massively successful (in fact it was suggested the English pilot for The Legend of Xapatan was so bad the producers were laughed out the office), although you can still swim round the set of Pago Pago if you like.
Antoine's legacy is perpetuated through my favourite production house Adventure Line Productions. Fort Boyard is still being made and watched 23 series on and currently they've had a lot of success with their take on Koh-Lanta, the French version of the Survivor format. Their non-Antoine adventure games have been pretty good, but they lack a certain je nais se quoi although I remain hopeful. We've covered them many and variously.
Jacques Antoine: for making television a lot more interesting and fun, and for representing everything that was brilliant about the gameshow genre and for exploring everything it could be and inspiring my love for it, I salute you.
Jacques Antoine 1924-2012