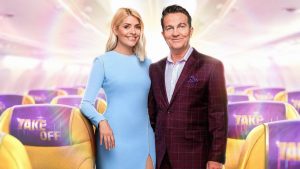 Saturday, 6pm,
BBC1
I forgot to watch the pilot episode ages ago but the BBC have made a four-episode series of this, where contestants compete for A PLACE ON THE PLANE! tickets to go to Las Vegas.
Suspect this is more about having a vehicle for the nation's sweethearts Brad and Holly on BBC1 than being a top class world beating format, it is rather giving off Totally Saturday! vibes from what little I've seen of it. Still, though.
Let us know what you think in the comments.
Incidentally, in what feels like a bit of a waste of episodes in this heat, the new series of The Wheel starts tonight at 8:30pm also on BBC1. I don't think the second series is going to be different enough to warrant its own Show Discussion post, so here's a link to the original one.