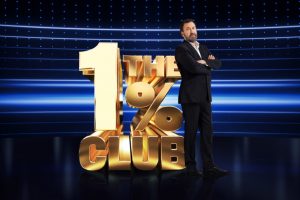 Saturdays, 8:30 (ep 1), 9:30 (subsequent),
ITV
It's one-half Test The Nation: The National IQ Test and one-half Everybody's Equal, Lee Mack gives 100 people £1,000 each and challenges them to hold on to it by answering multiple choice logic questions that have been tested by a sample of the public. The questions get harder as the game progresses representing fewer of the sample that got the question right in testing. Getting a question wrong means forfeiting your money to the pot and elimination. Answering the final 1% question correctly wins a share of the pot. And there's a bit towards the end of the game where you can take your money and run if you want.
It is the sort of thing we quite like – always enjoyed both of the elements it seems to be made from and I'm a big Lee Mack fan. Tainting it a bit are the stories we've heard about loooooooong recording sessions and the audience/contestants not being treated very well, frankly. It sounds like a second series has been commissioned before the first one has gone out, I understand, so let's hope everyone is a bit better second time around.
That presumably won't be coming out in the broadcast episodes though, let us know what you think of the finished product in the comments.