It is my 30th birthday tomorrow, and look at what a very good friend did!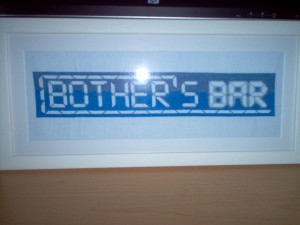 You can click on it for a bigger version. Plainly, amazing – a vision in cross stitch.
Things to do this weekend:
The ever-reliable Poochy.EXE has linked to the new version of Dasshutsu Game DERO! (TORE!) that's now doing the rounds, it's meant to have more of an Indiana Jones-y feel. It's still quite good fun, but I'm not feeling it as much as I did the original – the blocks aren't as good as the retracting beams, for example. You can watch the first episode here.
If you watch Fort Boyard this weekend, add your comments to the existing thread. Greg has found a free way round the international restrictions. I'm not going to get to watch it until Monday. Kiddy Boyard starts recording this week. We're still guessing the format, here's the Zodiak press release if you missed it earlier.
It sounds like Nick Hancock is about to start fronting a new BBC2 daytime quiz called Breakout. Basic premise is five people work together to win and share a prize by progressing down a 30-space track. Contestants can also opt to go for glory by striking out on their own. WHAT IS GOING TO HAPPEN? The set is 100-ft long, apparently.