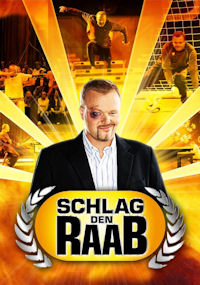 7:15pm UK time,
Pro Sieben or naughty internet streaming
Tweet us with #bbsdr or leave Youtube comments on the commentary stream.
Again, AGAIN, for the fortieth time in fact it's time for German überstar Stefan Raab to defend his money from people who would try and claim it, and tonight there's a whopping €1m in the jackpot. And once again we'll be providing an English language commentary which will run about ten seconds behind your internet stream of choice, and about thirty seconds behind the actual broadcast.
We know.
Still it's normally quite good fun, and tonight's musical guests include Lena, Robbie Williams and Leslie Clio! I know, THE Leslie Clio! Outstanding.
Once again you are encouraged to join in the fun by tweeting with the hashtag #bbsdr or leaving comments on the Youtube stream, either of which will get picked up by us in the studio (we're not in a studio) and we'll read out the best things. The show starts at 7:15pm UK time, although the first 45 minutes is picking a contestant, the games start proper around 8pm. Recently it's tended to finish around midnight, but it's an open ended live show so it could finish later than that.
This is the stream we will probably be using to commentate on.
We're limited to broadcasting in four hour bursts, so around 10pm we will need close down our first stream and start a fresh one. This will happen during an ad break or musical interlude, and we will update on here and on Twitter with the new addresses as soon as we can.
If you're new to Schlag den Raab then welcome! I've included a basic FAQ under the cut.
What is Schlag den Raab?
Schlag den Raab (Beat Raab!) is a German TV show on six times a year where members of the public take on TV personality Stefan Raab in a series of games for a lifechanging cash prize – €500,000. If Raab wins, the money rolls over. The action is broken up by musical guests.
Who is Stefan Raab?
Part Jonathan Ross, part Simon Cowell, Stefan Raab is one of Germany's most popular TV personalities. The show he is probably most famous for is weekly chat show TV Total, but elements of this have spun off into their own shows – annual wok racing championships (it's going down a bobsled run on a wok), celebrity diving, celebrity stock cars… all sorts of things. He's also a song writer who has competed in the Eurovision Song Contest and runs the German Song Contest. It was a Stefan Raab show that found Lena, of Satellite fame. And he's competitive, very competitive.
How does it work?
Five contestants limber up and the public decides who will be the evening's challenger through a live telephone vote. Contestant chosen, they will face-off against Raab in up to fifteen games – the first game is worth 1pt, the 2nd two all the way up to game 15 worth 15 points. With 120 points on offer, the winner is the first player to reach 61 points. At least 11 games have to be played (that will get you 66 points, and yes there have been 66-0 shutouts) but with the big points towards the end you're rarely out of contention.
What sort of things do they do?
Literally anything could come up but there are a few things you can bet will happen:
Three or four rounds are likely to be quiz rounds. The formats differ each time. You can guarantee Blamerien oder Kassieren will turn up starring Raab's TV Total colleague Elton (this is a quiz they play on TV Total).
There is usually some sort of driving event, usually in the form of a time trial.
There will be three or four events based around sports, sometimes straight but usually a variation of something known.
There's usually some sort of strategy game.
Almost certainly a hard test of mental agility and memory.
The rest defy pigeonholing and are often wildly inventive. You'll just have to watch and see!
Isn't this just Beat the Star with Vernon Kay?
This is the show Beat the Star was based on. The main differences are it's the same opponent each episode, the games tend to go on a bit longer, and the show can be on for five to seven hours. And it's all completely LIVE.
How did it start?
The legend has it (i.e. we read somehwere) Raab invited a female boxer onto TV Total, and then joked that she couldn't hurt him. She gave him a black eye. A format was born.