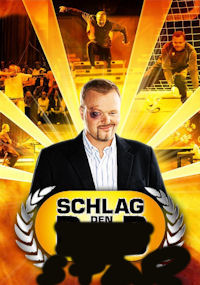 Tonight, 7:15pm UK time (8:15pm local)
ProSieben (or naughty internet streaming)
Tweet the team! #bbsdstar
TONIGHT! There's a live commentary on Schlag den Star, the celebrity based spin-off of Schlag den Raab where a member of the public attempts to beat a celebrity across nine exciting games in order to take home a rollover jackpot of €100,000.
Tonight! A member of the public will be taking on THE skijumper and racing car driver Sven Hannawald. Stefan Raab will be on hand to act on the contestant's behalf on one of the games if they wish, as a joker.
As ever we'll be using this naughty stream to commentate from.
The live commentary should begin around 7:15 UK time. Check the comments, search for #bbsdstar or follow Lewis Murphy on Twitter for the live Youtube link.
Unlike Schlag den Raab this is a pre-recorded show so will run to time, it should be done by 9:30pm UK time (10:30 local) so you won't have to change stream at any point. We know the commentary is likely about 10 seconds behind that live feed and about a minute behind what you see on television, sorry.
I'm not going to be around for the commentary tonight, but amongst the usual crowd there might be some new voices taking up the throng. JOIN THE CONVERSATION by commenting on the commentary YouTube feed or tweeting with #bbsdstar. We enjoy your company!