We're back! The Bother Series of Poker is a 12 event no-limit hold 'em poker championship running on Sunday nights from now until June. You don't have to play in every event to win (in fact you can just join us anytime you fancy the odd game), and you can win these magnificent prizes!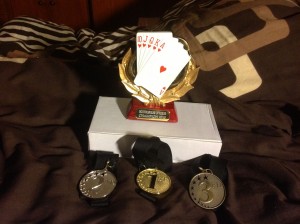 Amazing I'm sure you'll agree. But not only that, there's CASH MONEY on offer:
The overall champion will win the trophy, the gold effect medal and pocket an additional $100 for themselves.
The runner-up will win the silver effect medal and win an additional $50.
The third-place finisher will win the bronze effect medal and a bonus $25.
So $175 on offer then. With each game you play you collect points – only your best seven standard game results and best special game (and bonuses) will count so you don't have to play in every game, but the more you play the better your overall chances. You must be a member of the Bother's Bar Poker Club to play.
You don't have to be a serious contender for the league to join in, each game has a payout, so come and play!
Every game will start at 8pm WET. A standard game has a 1,500 starting stack, the double stacked events have 3,000 chips, the superstack grand final 5,000 chips. All games set to Top 10% payout. There is usually ten minutes late registration available. Games are usually fortnightly, but please note the Easter Break and the final is one week after Game 11.
Game 3: 17th Feb, $5 + .50 entry
Game 4: Special double stacked game (double points), 3rd March, $10+1 entry
Game 5: 17th March, $5 + .50 entry
(No game Easter Sunday)
Game 6: 7th April, $5 + .50 entry
Game 7: 21st April, $5+ .50 entry
Game 8: Special double stacked game (double points), 5th May, $10 + 1 entry
Game 9: 19th May, $5 + .50 entry
Game 10: 2nd June, $5 + .50 entry
Game 11: 16th June, $5 + .50 entry
Game 12: Special Superstack Grand Final (triple points), 23rd June, $20 + $2
See you at the tables. Good luck!
Brig Bother's decisions are final, by playing in the Bother Series of Poker you accept that Brig Bother may change or remove the rules,  prizes or competition at any time. The bonus money will be transferred through Pokerstars. OK? OK.