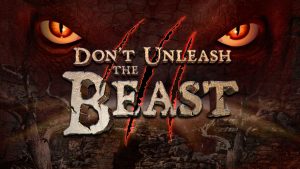 Mondays to Thursdays, 5:00pm,
Repeated the following morning at 11:30am,
CITV
Proving that there's still more exciting stuff in kids TV than in TV being made for grown-ups, our main interest in Don't Unleash The Beast is that from the adverts it looks like Jungle Run, but if they had to make it slightly different to avoid breaching copyright.
The good news is Jungle Run was great (eventually). They also stopped making it in 2006 so somebody born when JR finished would be really pushing this show's target demographic, let alone me as a 39 year-old.
Anyway, a group of kids advised from afar by the comic and magician Pete Firman complete physical and mental challenges in the underground kingdom of Halian to find its mysterious treasure but they must have a care not to unleash the foul and ferocious beast as that would be bad, it says in the press release.
Will it fill that Jungle Run/Crystal Maze hole currently in the schedules, or is it going to be a different beast entirely? Let us know what you think in the comments.