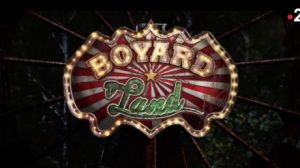 Saturday 7th November, 8:05pm(UK)/9:05pm(CET)
France 2
Splash! They've recorded six more! But it won't be going out as a series, as we understand it they'll be going out as seasonal specials, the first one of which is the Halloween one to celebrate Halloween, er, last week. To be fair, it was probably intended to go out last week but the Six Nations rugby restarted.
We quite enjoyed the first series as a proof of concept, it sounds like they might have beefed it up for series two – we hope they've improved its economy so winning a game feels more worthwhile – indeed, the big wheel is now the semi-final and a timed event with loads of Boyards on the line, and there's a brand new final where the contestants must grab loads of Boyards from a safe and get out in time, apparently modelled on the Scrooge McDuck diving into a load of coins in the intro to Duck Tales. Not to mention new characters and other new events.
We're extremely interested to note that they filmed these in COVID times but the adverts suggest no obvious social distancing, so we're intrigued to find out how they've got around that, and hopefully they can use whatever they did on Fort Boyard next year which felt like a highly compromised series.
It will be of course overly long at over two hours and that's where not being a weekly series will probably help it.
Let us know what you think in the comments.