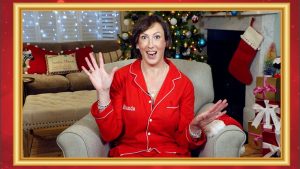 Thursday (Christmas Eve),
BBC1, 9:45pm
This is quite interesting, or at least more interesting than it might look, it's actually a version of Celebrity Game Face, a show developed for NBC's online operation, where Kevin Hart challenged celebs to play silly games remotely.
Now Miranda Hart's doing it with Shirley Ballas and partner Danny Taylor, Jermaine Jenas and his wife Ellie and Robbie Williams and his drummer Karl Brazil.
Together they play a host of games – from stuffing sprouts in their mouths, and nailing viral dance moves, to dashing round their houses on a hunt for mystery items.

The competitive spirit abounds, not least because the winning team get to proudly lay their hands on Miranda's hefty bust – a glimmering and enviable trophy sculpted in her image.

Monkey's press release
The Main Event lives! Might be mildly good fun, and only half an hour to boot. Let us know what you think in the comments.