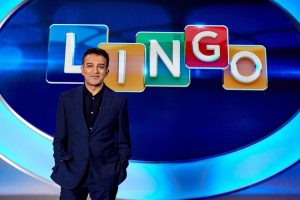 Starts Friday, New Year's Day at 4:35pm on ITV,
Continues weekdaily 3pm ITV
Over thirty years since it was last on UK screens, and not long after lots of long-running European versions have ended, Ben Shephard's production company have tapped up Good Morning Britain host and comic Adil Ray to front a revival, seemingly based on the recent two-series-and-done Dutch version.
What does that mean? More emphasis on Word Mastermind and greatly downplayed bingo element, although ball drawing still happens (Edit: Nope). Whatsmore we're looking at three teams being whittled down to one within the hour who will get to chance to win their bank, double it or lose it all in the final game.
We always quite liked Lingo, cheery fun. Whether I like 60 minutes of Lingo remains to be seen.
Watched it? Let us know what you think in the comments.