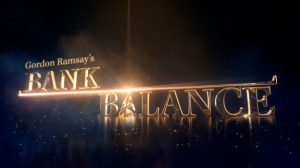 Various weeknights over the next three weeks, 9pm,
BBC1
Extremely unusual scheduling for a shiny floor show on the BBC this which suggests either a) confidence and a willingness to ape Millionaire or b) desperation over a lack of shows in the bank. Gordon Ramsay's Bank Balance sees contestants attempt to win up to £100,000 by answering questions and balancing gold bars atop an increasingly unstable table – wrong answers mean adding penalty bars, and if a stack falls down it's game over.
Because of the way they've recorded audience reaction, we've already got some idea as to the quality of the largely edited shows. Clearly quite a lot of interest is going to lie in how well Gordon Ramsay fits in as host – it's got a post-watershed slot so it will be interesting to see how his natural prickliness combines with the high tension the show wants to have. Not too dissimilar to Jeremy Clarkson on Millionaire, which has been a success by and large.
Does the end result work? Let us know what you think in the comments.