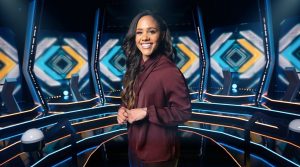 Weekdays, 2:15pm,
BBC1
And so the BBC try out a new format in the apparently challenging post-Doctors slot, this one's a quiz that's been devised by the people behind QI and fronted by ex-football captain Alex Scott.
Despite its octagonal title card, our eight contestants will not be battling it out in mixed marshal arts, instead they will be taking on each other in quizzing duels based around a tug-of-war element. The last one standing could win a cash prize, but as yet I don't actually know what that potential prize is. "Journalism!"
We know several people involved in divising it so we can appreciate the pedigree. We're also digging the super-electronic set.
But is it an entertaining watch? Let us know in the comments.